TypeMatrix 2030 Ergonomic Keyboard
TypeMatrix offers the only balanced ergonomic keyboards that reduce the motions known to cause Repetitive Strain Injury.
By solving ergonomic issues without the use of bulky contouring, TypeMatrix keyboards deliver all the functions of a standard keyboard in one small, sleek and logical package that easily fits in a standard briefcase or laptop bag.
Prevents typing injuries
Reduces or eliminates existing typing symptoms
90% of users get complete or significant reduction of pain
Switchable to Dvorak layout (50% less finger travel)
Promotes centered positioning and ease of use
Designed for professions requiring extended typing use (programmers, writers, clerical, etc.)
(including 0 € for eco-participation)
TypeMatrix 2030 Ergonomic Keyboard is available to buy in increments of 1
Secure payment

Delivery within 48 hours

Satisfied or refunded
Details
Hardware features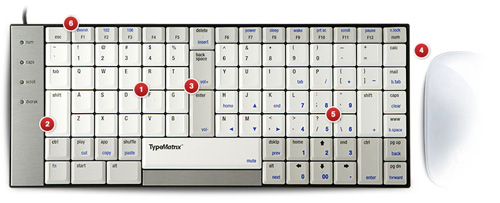 Matrix Architecture Straight vertical key columns increase typing accuracy.

Large Shift Keys Accuracy is increased and stressful wrist motions are reduced.

Large CenterEnter and CenterBackspace Keys Accessibility by strongest index finger is increased while stressful motions by weaker fingers are decreased.

Close Mouse Location Minimal reach for mouse reduces arm and shoulder stress.

Enhanced NumPad Overlay Enhanced NumPad Overlay.

Dvorak Key The one-touch key switch to "Dvorak" enables 50% less finger motion.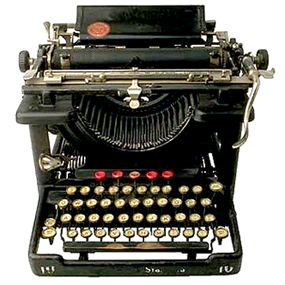 Original Typewriter Design
The first commercial QWERTY typewriter was invented in 1872, before ergonomics was of any concern. This layout was adopted as industry standard and has survived virtually unchanged into the 21st century.

Staggered Columns
Forces unbalanced motions that strain fingers, hands and wrists.

Vertical Columns
Reduces motions that cause Repetitive Strain Injury (RSI)
Usability Features
Comprehensive Ergonomic Design The TypeMatrix 2030 keyboard significantly reduces the motions known to cause typing injuries.
Sleek, Lightweight, and Portable Short footprint allows keyboard and mouse to fit in keyboard trays. Light weight and sturdy structure promotes portability.
Thin Profile Promotes Neutral Wrist Posture Narrow, compact design keeps wrists relaxed with nominal strain.
High-Quality Key Touch Membrane technology with "double-scissor" substrate producing smooth, quiet, responsive touch.
Downloads
Product documents
More Information
More Information

| | |
| --- | --- |
| Color | Silver |
| Dimensions | 324x133x12.7mm |
| Operating system | Windows, Mac OS, Unix/Sun OS |
| Hotkeys compatibility | Windows, Mac OS, Unix/Sun OS |
| Guarantee | 2 years |